Salted Caramel ANYTHING is a win in our keto book! We've combined our BETTER//BROTH™ Salted Caramel and the deliciousness of blondies, to bring you the best of both worlds! Chewy and sweet, these are perfect out of the oven or paired with your morning espresso!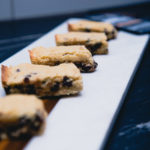 Salted Caramel Blondies
12 servings
Per serving: 2.5g Net Carbs, 20.5g Fat, 5g Protein
2 cups almond flour
1/4 cup swerve
1 packet BETTER//BROTH™ Salted Caramel
1 tsp baking powder
1/2 tsp salt
1/2 cup butter
1 egg
1/2 tsp vanilla
1/2 cup sugar free dark chocolate chips
Instructions
1. In a large mixing bowl, combine flour, swerve, BETTER//BROTH™ Salted Caramel, baking powder, and salt.
2. Stir in melted butter, egg, and vanilla until dough like consistency forms.
3. Do not over blend.
4. Fold in chocolate chips.
5. Press dough into a greased 8×8 baking pan and bake 20-25 minutes at 350º F.
6. Let cool 10-15 minutes, cut into squares, and enjoy!
This recipe is perfect to make with your kids, and a good excuse for them to get their hands dirty pressing the dough into the pan ;)! We want to see how you are making our keto treats! Snap a picture, post to Instagram or Facebook, and tag us @justpruvit #ketocooking. But wait! Are you a culinary guru in kitchen?! Well, share your skills! Email us your Keto Cooking recipes at yum@pruvithq.com, we will feature one a week!